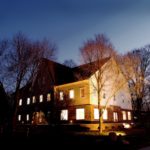 February 2nd/2 Hollyhock Rd (a.k.a. 66 Danbury Rd), Wilton, CT/8-9:30 A.M.
This is an architecturally stunning and well maintained building on South Wilton's busy Route 7. Currently, the following are available for Lease:
400/S.F. beautiful single 1st floor Office with shared kitchenette @ $1,000/Month Gross
600+/- S.F. 1st floor stellar 2 room Office suite with large windows and shared kitchenette @ $2,300/Month Gross
500+/-S.F. 1st floor Showroom/Office space with large windows and fantastic visibility to Route 7 @ $32/S.F. NNN
Single 2nd floor elegant Office space with high ceilings and shared kitchenette @ $850/Month Gross
Two room 2nd floor spectacular Office suite with private kitchenette @ $2,000/Month Gross
All amenities are within walking distance and the property is in close proximity to the Merritt Parkway and I-95.
Please call the listing agent(s) for further details or to set up a visit:
Christopher Maglione (203)858-9701
Dale Thomas (203)913-4345